What is software developers insurance?
Software Developer Professional indemnity insurance (errors and omissions insurance) protects software developers and contractors in case their work causes an issue. Software Developers Insurance can protect Software Developers against the financial impact of a claim or legal proceedings being brought against them, whether from a dissatisfied client or a piece of software failing to meet an expected standard leading to a third party financial loss.
Professional indemnity insurance for software companies
Whether you are a software development company designing software for clients or building your own offering, it would be prudent to take out professional indemnity insurance in case of claims or damage from what you have built.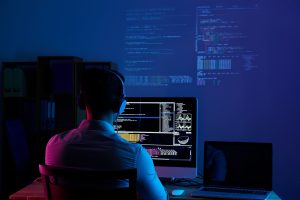 Contact Us
Should you wish to avail of a free no obligation quotation please do not hesitate to contact us in either of our offices
Cork (021) 4275 347
Kerry (068) 59983
Alternatively e-mail us with your renewal date and we will contact you prior to your renewal – newbusiness@mbcinsurance.com
Or you can fill in this form with your query and we can contact you
Query Form

More on Software Developers Insurance
As a software developer, having insurance is an important aspect of protecting your business and your livelihood. Software developer insurance is a type of insurance that is specifically designed to protect the unique risks and exposures faced by software developers. Here are just a few of the reasons why insurance is important for software developers.
Protection against lawsuits.
As a software developer, you may face lawsuits from customers, clients, or other parties who claim that your software has caused them harm or financial loss. Software developer insurance can provide financial protection against these lawsuits, helping you to defend yourself and to cover the costs of legal fees and settlements.
Coverage for errors and omissions.
Even the most careful and experienced software developers can make mistakes, and these mistakes can have serious consequences. Software developer insurance can provide coverage for errors and omissions, protecting you against claims related to mistakes or oversights in your software.
Support for intellectual property disputes.
Software developers often face disputes related to intellectual property, such as copyright infringement or trade secret misappropriation. Software developer insurance can provide financial support for legal fees and other costs associated with these disputes, helping you to protect your intellectual property rights.
Peace of mind.
As a software developer, you are likely to have a significant amount of time, effort, and money invested in your business. Insurance can provide peace of mind, knowing that you have financial protection in the event of a lawsuit or other unforeseen event.
Compliance with industry regulations.
Depending on the type of software you develop and the industries you serve, you may be subject to various regulations and standards. Insurance can help you to meet these regulations and standards, and can provide protection against the financial consequences of non-compliance.
Overall, software developer insurance is an important consideration for software developers. It can provide protection against lawsuits, errors and omissions, intellectual property disputes, and other risks, and can give you peace of mind and support compliance with industry regulations. If you are a software developer, consider purchasing insurance to protect your business and your livelihood.
Common Software Developers Insurance Questions
What is covered by software developers insurance?
Professional Indemnity insurance for Software Developers provides cover for claims and allegations made against you by clients and third parties because of mistakes you've made and things you've failed to do.
Specifically (but depending on the policy wording), it covers:
Negligence
Defamation
Intellectual property infringement
Loss of documents or data
Negligent misrepresentation or misstatement
Virus transmission
Breach of confidentiality
Failure of third-party equipment
What is not covered by software developers insurance?
Typically the following would be exclusions on a standard professional indemnity policy: Some professional indemnity exclude coverage for claims based upon the insured's failure to maintain minimum standards. Most professional indemnity policies exclude coverage for claims arising out of "bodily injury" and "property damage, which would be coverable under a standard Commercial Combined or Liability Policy offering. Prior Acts or incidents emanating before the inception of professional indemnity cover or ongoing incidents that precede the inception of the cover.
Do software developers need professional indemnity insurance?
In simple terms – Yes! Professional Indemnity Cover protects you against claims or allegations of Professional Negligence or allegations if your work fails to meet the standard required by clients, you may be held liable for any losses your client suffers, along with the legal costs you may incur in defending same.
Who needs need professional indemnity insurance?
It depends on your contract but the following have gotten software developer insurance:
Software contractors
Freelance software developers
Contractor computer programmers
App developers
Web Developers